Tuesday Nov 15, 2022
S4 Ep.03 Casey Winters - Design, Growth & Evolution of Product Organizations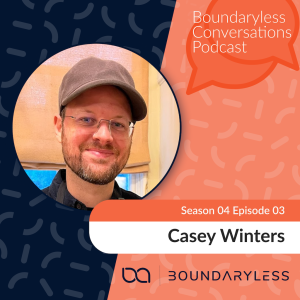 Casey Winters is a growth advisor and operator that helps companies scale. Casey is a legend of product growth and marketplaces, and, among many other things, he's an advisor and operator that helps companies deal with the problem of scale. Most recently, Casey was the Chief Product Officer at Eventbrite: before that he had tremendous experience working for and advising companies such as Grubhub, Pinterest, Airbnb, Canva, Thumbtack, Reddit, Hipcamp, Faire and many others. Casey also is a partner at Reforge, one of the leading growth programs you can attend.
Besides some real world experiences from his career, in this episode, Casey shares insights about how it is possible for a company to leverage on its organizational model as a lever for growth. 
Casey also explains how the growth model is a peculiar aspect of each company and how to reduce friction is key so that it can flow more strongly. We also discuss how the responsibilities to drive network effects often moves from local teams to more centralized functions over time, and finally how leaders should be thinking about autonomy when managing growth and product teams.
Remember that you can always find transcripts and key highlights of the episode on our website: https://boundaryless.io/podcast/casey-winters/
Key highlights of the conversation:
The Organizational structure can change according to strategy especially at the early stage of a business

Growth model: what is and what structures you need around that.

OKRs and creative spaces: what is the balance a leader should put in a team?

How can marketing and growth teams work together?

Brand vs performance: how a startup should think.
To find out more about Casey's work:
👉 Twitter: https://twitter.com/onecaseman 
👉 Website: https://caseyaccidental.com/ 
👉 LinkedIn: https://www.linkedin.com/in/caseywinters/ 
Other references and mentions:
👉 The Types of Product Team Organizational Structures | Casey Accidental https://caseyaccidental.com/product-organizational-structures/  
👉 Conway's law https://en.wikipedia.org/wiki/Conway%27s_law 
👉 The Autonomy Spectrum https://caseyaccidental.com/the-autonomy-spectrum 
👉 Dynamic creative optimization https://en.wikipedia.org/wiki/Dynamic_creative_optimization 
👉 Reforge teaching: https://www.reforge.com/advanced-growth-strategy-series 
Casey's suggested breadcrumbs (things listeners should check out):
👉 Severant - Kuedo https://kuedo.bandcamp.com/album/severant-2022-edition
👉 Infinitive Window - Kuedo https://kuedo.bandcamp.com/album/infinite-window 
Recorded on 17 October 2022.
Get in touch with Boundaryless:
Find out more about the show and the research at Boundaryless at https://boundaryless.io/resources/podcast/
👉 Twitter: https://twitter.com/boundaryless_ 
👉 Website: https://boundaryless.io/contacts/ 
👉 LinkedIn: https://www.linkedin.com/company/boundaryless-pdt-3eo/ 
Music 
Music from Liosound / Walter Mobilio. Find his portfolio here: https://blss.io/Podcast-Music